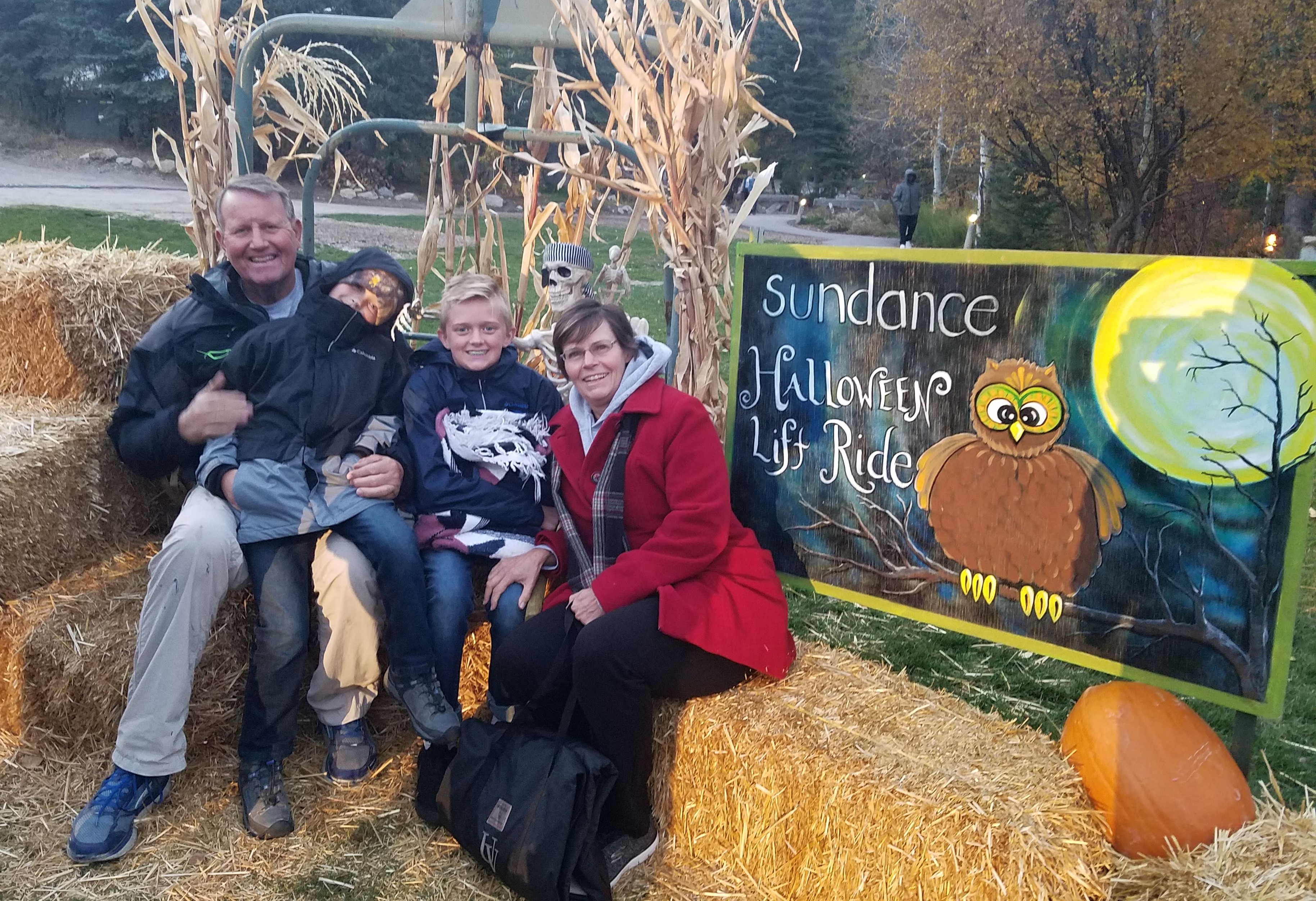 Do you love Halloween? It's one of our favorite holidays. We love it so much that for 25 years we hosted a Halloween Open House where we served home-made chili, clam chowder, root beer, hot chocolate and cider along with donuts. We had a house full for hours and estimated that we served 300 people that one night. It was great, and we're sorry if you missed it, but you have lots of other options for Halloween fun.
Do you like Corn Mazes? Here are seven of them, from north to south county.
Cornbellys: http://cornbellys.com
Where: 3003 Thanksgiving Way, Lehi
When: Sept. 28-Nov. 3 (Closed Oct. 31-Nov. 1) Monday-Thursday, 4-10 p.m.; Friday-Saturday 10 a.m. to midnight; Closed Sundays
Cost: $12.95 for weekdays, $16.95 for weekends; season passes available
Evans Family Farm: http://facebook.com/EvansFamilyFarmLehi
Where: 2600 W. Main Street, Lehi
Dates: Open through October
Hee Haw Farms: http://www.heehawfarms.com/
Where: 150 S. 2000 West, Pleasant Grove
When: Sept. 28-Nov. 3; Monday-Thursday, 4-9 p.m.; Friday, 4-10 p.m.; Saturday 10 a.m. to 11 p.m.; Open all day on Oct. 19, 20 and 23
Cost: $9 for ages 3 and up
Wilkerson Farm Fall Fair: https://wilkersonfarm.com/fallfair
Where: 710 W. 2000 South, Orem
When: Open through Oct. 31, 10 a.m. to 8 p.m. Mondays-Saturdays
Cost: Free for ages 0-4, $9 for ages 5 and up, $7 per person for groups of 20 or more
Maicee's "Maize" of Madness at Jaker's: http://harwardfarms.com/jakers/
Where: 950 W. 400 South, Springville
When: Sept. 29-Oct. 20 hours are Monday-Saturday, 9 a.m to 8 p.m., closed Sundays; Oct 22-30 hours are 9 a.m. to 7 p.m.; Oct 31 hours are 9 a.m. to 3 p.m.
Cost: $3 for ages 3 and up
Glen Ray's Corn Maze and Pumpkin Patch: https://glenrayscornmaze.com
Where: 1750 W. 8000 South, Spanish Fork
When: Sept. 28-Nov. 3; 12-9 p.m. Mondays-Thursdays, 12-11 p.m. Fridays, 10 a.m. to 11 p.m. Saturdays, Closed Sundays; Open 10 a.m. to 11 p.m. Oct. 18-20
Cost: Corn maze pass, $8; Haunted Corn Maze, $15, Small Attraction Pass, $4
Rowley's Red Barn Back 40: http://rowleysredbarn.com
When: 901 S. 300 West, Santaquin
Open: Sept. 22-Oct. 30; Monday-Friday, 3:30-8:45 p.m.; Saturdays 10:30 a.m. to 8:45 p.m.
Cost: $9 a day per person, family pass for five people is $40
Did you notice that McCoard's was missing from the list? Sadly, construction on the new Lake View Parkway kept them from throwing their Fall Festival. They are hopeful that they will be able to get back to Halloween fun next year.
There are so many Halloween activities that it can be hard to chooses where to spend your time. Here are a couple of our favorites places to go.
Sundance Lift Rides & Zip Tour: https://www.sundanceresort.com/events/halloween-lift-rides-ziptour/
When:
Oct 18-31 (Closed Sun 21 and 28)
Times:
Monday – Thursday: 7 p.m. – 10 p.m.
Friday – Saturday: 7 p.m. – 11 p.m.
Sunday: Closed
Check the website for prices. Enter "Halloween5" when you purchase online to get $5 off each ticket price.
CLAS Ropes Halloween Cruise: http://clasropes.com/christmas---cruise.php#Halloween
CLAS turns the Provo river into a Halloween adventure cruise through which you can take a riverboat ride. It's a great family activity.
Location: 3606 West Center, Provo, UT 84601
When: Oct 1-31, 2018
Time: 6:30 - 9:00 pm Mon-Thurs, with cruises leaving every 30 mins.
6:30-10:00 pm Fri & Sat.
For more even more activities go to Explore Utah Valley at https://www.utahvalley.com/events/
The Daily Universe published 17 activities around Utah, which included the Pedal Provo Ghost Tour, the only bicycle ghost tour in the country! This is going to be my next Halloween activity.
See the rest of the activities at: https://universe.byu.edu/2016/10/04/17-halloween-themed-utah-activities-to-do-this-october1/
For an even more comprehensive list of activities that are kid friendly, go to: https://utahvalleymoms.com/2018/10/utah-county-halloween-events-trick-or-treating-pumpkin-patches-2018
Happy Halloween!